Gutter and Downspout Cleaning
Overflowing rain gutter water and clogged downspouts can do serious damage to your home usually beginning with the fascia, eaves, and foundation.
If you choose to hire a gutter cleaning service, you've found the best!
Our service is streamlined to provide you fast service-typically within 1 week. You wont have to lift a finger to rest easy knowing your property is maintained properly.
Our pricing is usually at $1 per linear foot of gutters, 2nd story gutters $2 per linear ft.
Our estimate price provided is always our max price unless other work is requested!
Often your total after the cleaning is less than the estimate, areas that are already clear get deducted from the estimate.
No surprises or tricks here!
What We Do
Inspect all Gutters-price is deducted for clear areas.
Blow leaves off Roof.
Bag and Remove all debris from all gutters.
Flush all gutters and downspouts after cleaning and check for downspout flow.
Rinse, blow, clean any mess we created, It will be cleaner when we leave than when we arrived.
Here's what our happy customers had to say about our services:
Storms response to initial questions about the service he offered was immediate! He arrived on time as promised,and the price and quality of cleaning went above and beyond expectations. Definitely recommended and will use his service again. This is an honorable man I highly recommend.
Southern Solutions did a great job cleaning moss off my roof, which was damaging it. The price was reasonable and the work was done very professionally. The owner clearly takes pride in his work. I also got a price for driveway cleaning, which I will do in a few months. The price was better than the price I have received from other people and I like the cleaning process Southern Solution uses rather than the regular pressure washing most companies seem to do.
The guys at Southern Solution did a wonderful job on my mother in laws home. They were very courteous and helpful and took the time to fit us into their already busy schedule so we could surprise her when she returned from her trip. The house looks clean and shiny again and she is so happy. Thank you so much!
Professional and prompt. Service was excellent!
We are so pleased with our vinyl siding it's bright white again! Such a Great job on gutters and siding, my husband Barry thinks it was Excellent work. 5 stars, would give 10! Thank you, Storm
Great service, great knowledge of the job, unbeatable prices. Highly recommend Southern Solution for all your exterior house cleaning needs
A Few things that make us the best gutter cleaning service.
We use ladder standoff bars to protect your gutters, siding, and roof.
We wont trash your landscaping either!
No scratches or dents on your gutters.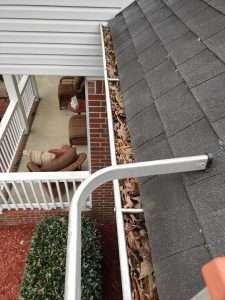 We remove all debris, and test downspouts to check for drainage.
We even send before/after pictures!
We can reach the toughest gutters safely!
innovative tools keep us safe!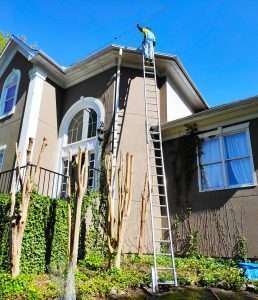 No Hassle, No Obligation Estimates.
Virtual Pricing available.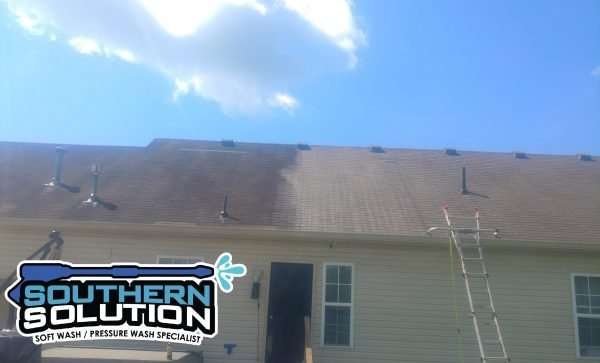 High pressure should not be used to clean shingle roofs.
Our Roof Cleaning system uses the a safe biodegradable solution recommended by roofing manufacturers to safely apply a low-pressure treatment, and remove that unsightly roof growth, black streaks, and roof algae.
Your roof can look like new tomorrow, with a call today!
Our House Washing Service provides shocking results!
We are able to turn green to clean up to 40′ from the ground-keeping ladders off of your home and preventing unnecessary damage.
Soft washing your home will clean better than high pressure. This safe detergent solution that is approved by siding manufacturers provides a more uniform and longer lasting clean than high pressure!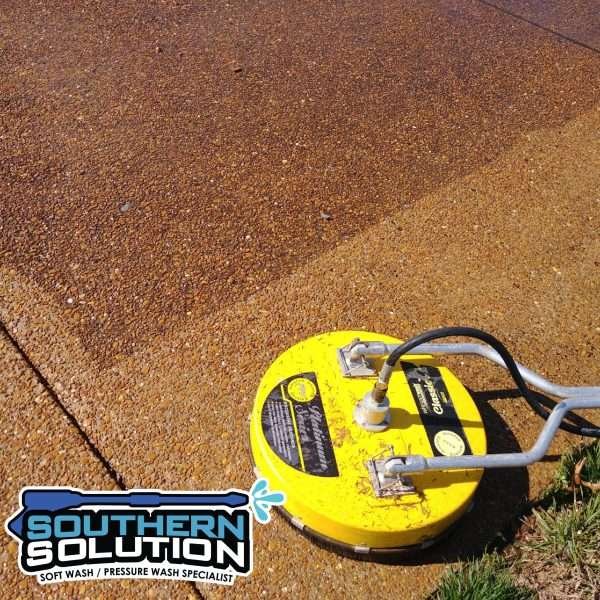 Concrete Cleaning– We are trained in removing a wide range of stains from concrete including:
Rust/Irrigation Stains/Battery Acid
Restaurant Grease/Oil Stains
Driveways/Sidewalks
Patios/Pool Surrounds
Tennis Court Cleaning
Parking Lot/Parking Garage Cleaning
And more…
Your Gutters and Downspouts being clean play a vital role to your properties health.
To keep your property healthy we recommend cleaning your gutters twice per year, maybe more depending on your surroundings.
We Clean and Restore...
Buildings I Home Exteriors | Vinyl Siding | Brick | Dryvit | Stucco | Stone | Roofs | Decks | Concrete Cleaning | Aluminum Siding | Soffit | Fascia | Gutter & Downspout| Restaurants | Drive Thru's | Dumpster Pads | Parking areas | Driveways | Parking Lots | Warehouses | Loading Docks | New Construction | Industrial Equipment | Factories | Condominiums | Townhouses | Apartments | Common Areas | Pool Houses | Clubhouses