Soft-Wash Roof Cleaning
• Clean your roof using a safe, low-pressure process
• Get rid of all moss and lichen from your roof
• Remove discoloration—black streaks, etc.—from your roof
• Restores your old or new roof to its best possible condition
Roof Warranty Safe!
Southern Solutions' Roof Cleaning is AFFORDABLE, Safe and Fast!
No Hassle, No Obligation Estimates.
Virtual Pricing available.
• Highest rated veteran-owned roof cleaning company in Middle Tennessee
• 5-year warranty and 100 percent satisfaction guarantee on all Roof Washings
• Safe, soft wash roof cleaning method that won't damage your home
• Remove ugly black streaks and algae safely and effectively
---
Don't let this happen to you!
Improperly or Never Cleaning Your Roof May Cost You Your Warranty.
We use less pressure than your garden hose to protect the granules on your roof! No degreasers or tsp should every be used, we follow strict formulas for the correct detergent ratios.
The photo above is not our work, this is an example of what high pressure can do to your roof. This damage is permanent, but can be avoided by hiring Southern Solution
professional roof cleaning service.
---
What types of roofs do we clean?
Commercial/Residential
Shingle/Asphalt
Tile
Metal
Tpo
Commercial Rubber Membrane
Our Specialized
Services Include:
We Clean and Restore...
Buildings I Home Exteriors | Vinyl Siding | Brick | Dryvit | Stucco | Stone | Roofs | Decks | Concrete Cleaning | Aluminum Siding | Soffit | Fascia | Gutter & Downspout| Restaurants | Drive Thru's | Dumpster Pads | Parking areas | Driveways | Parking Lots | Warehouses | Loading Docks | New Construction | Industrial Equipment | Factories | Condominiums | Townhouses | Apartments | Common Areas | Pool Houses | Clubhouses
Are We The Best Roof Cleaning Company For You?
We provide a safe and (insured) trained service for cleaning your roof based on the manufacturer's guidelines.

Southern Solution is a Licensed, Insured, and Trained Roof Cleaning Service.
We understand that cleaning a roof can be dangerous, but we're trained and certified to do it safely by the manufacturer's guidelines.
Most work is completed without stepping on the roof, if roof access is needed safety equipment is always used.
We apply a detergent from the gutter line with the pressure of a garden hose.

We are trained in, and follow procedures for the

Soft-wash method that is recommended by ARMA, The Asphalt Roofing Manufacturers Association.
Pressure Washing a Roof is not recommended for almost all roof types, especially asphalt shingles. Shingle manufacturers recommend a low-pressure detergent solution to avoid granule loss and remove the growth that is eating at your roof.
We are knowledgeable about the detergents we use. We collect the roof run-off from the gutters and recycle it.
We will take great care of your landscaping and property, as if it were our own. When we wash a roof, we have one technician on the ground rinsing the plants and grass around the house to dilute any chemical solution overspray. This way, it does not do anything other than what it is supposed to.
 A Few Recent Reviews
Storms response to initial questions about the service he offered was immediate! He arrived on time as promised,and the price and quality of cleaning went above and beyond expectations. Definitely recommended and will use his service again. This is an honorable man I highly recommend.
Southern Solutions did a great job cleaning moss off my roof, which was damaging it. The price was reasonable and the work was done very professionally. The owner clearly takes pride in his work. I also got a price for driveway cleaning, which I will do in a few months. The price was better than the price I have received from other people and I like the cleaning process Southern Solution uses rather than the regular pressure washing most companies seem to do.
The guys at Southern Solution did a wonderful job on my mother in laws home. They were very courteous and helpful and took the time to fit us into their already busy schedule so we could surprise her when she returned from her trip. The house looks clean and shiny again and she is so happy. Thank you so much!
Professional and prompt. Service was excellent!
We are so pleased with our vinyl siding it's bright white again! Such a Great job on gutters and siding, my husband Barry thinks it was Excellent work. 5 stars, would give 10! Thank you, Storm
Great service, great knowledge of the job, unbeatable prices. Highly recommend Southern Solution for all your exterior house cleaning needs
No Hassle, No Obligation Estimates.
Virtual Pricing available.
Roof Cleaning Is The Highest Value Adding Service For Your Homes Exterior!
Whether you are selling or staying, the curb appeal added by a clean roof is amazing!
Buyers immediately notice a dirty roof and think it needs to be replaced.
Keeping the leak causing growth and unsightly stains away is critical and will provide you peace of mind.
Roofs typically start showing growth after about 5-10 years,but lack of sun, foliage, and clogged gutters can cause moisture to retain on your roof, and start the roof eating growth faster.
Roof algae will usually start and be the worst on the north side of roofs because it receives less sun and stays moist longer.
How Do You Remove Moss From A Shingle Roof?
Storm
2020-02-17T00:06:01-06:00
Moss is gently removed by following the shingle manufacturers' recommended cleaning recommendations.
Moss will root into your shingles and may push up on the edges causing a potential for leaks. Our treatment will immediately kill the moss, but it will take a few sunny and rainy day cycles to remove the moss roots and allow it all to fall off without damage.
The moss can not immediately be removed without the potential for damage.
The growth after being treated typically releases within 1-2 months. Our method will keep the granules intact that protect your roof!
How Much Does It Cost To Have My Roof Cleaned?
Storm
2020-02-16T23:20:55-06:00
Our Roof cleaning prices start at $175 for a basic small roof with a few streaks and varies from there depending on sq footage, difficulty, pitch, landscaping, and a few other factors. Our prices typically fall within .20-.40 cents per sq. ft. in most cases.
We guarantee spot-free roofs for 3 years after cleaning and will retreat at no cost if needed. Roof Cleaning when completed at the same time as a house wash or gutter cleaning could push this price even lower than .20 per sq. ft.
Our average roof cleaning price is about $600 for a complete roof on a medium-sized home. This cost is on average 20x less than replacing your roof!

Black Streaks On Shingle Roofs
• Black streaks on your roof are not dirt or jet fuel
• Roof algae start as dots, then take a cone shape
• Spores travel to nearby roofs and spread through neighborhoods
If the growth on your roof is left untreated the growth holds moisture within shingles, causing premature aging and rotting. All of which can lead to leaks and even needing a whole new roof which costs thousands of $$$$$$.
If gloeocapsa magma is left untreated it can turn into lichen, which is a type of moss usually seen on boulders and trees. It causes the roof shingles to deteriorate over time and can turn a roof with a 15-year warranty into a roof with a 5-year warranty.
Lichen On your Roof?
Roofs are often damaged by lichen, which becomes an extremely hardy pest and is very difficult to remove. If you have lichen on your roof, its time to have it cleaned!
If you peel lichen off your roof, it will leave a scar or divot. Lichen has fused to the granules on your shingles and peeling it off also takes the granules off, even if it is dead. Roof washing will kill lichen immediately. However, the dead lichen will remain behind for a number of wet and dry cycles before falling off.
Roof washing will not repair the divots left behind from the lichen peeling the granules away, but it will prevent any further damage from happening.
Roof Moss Removal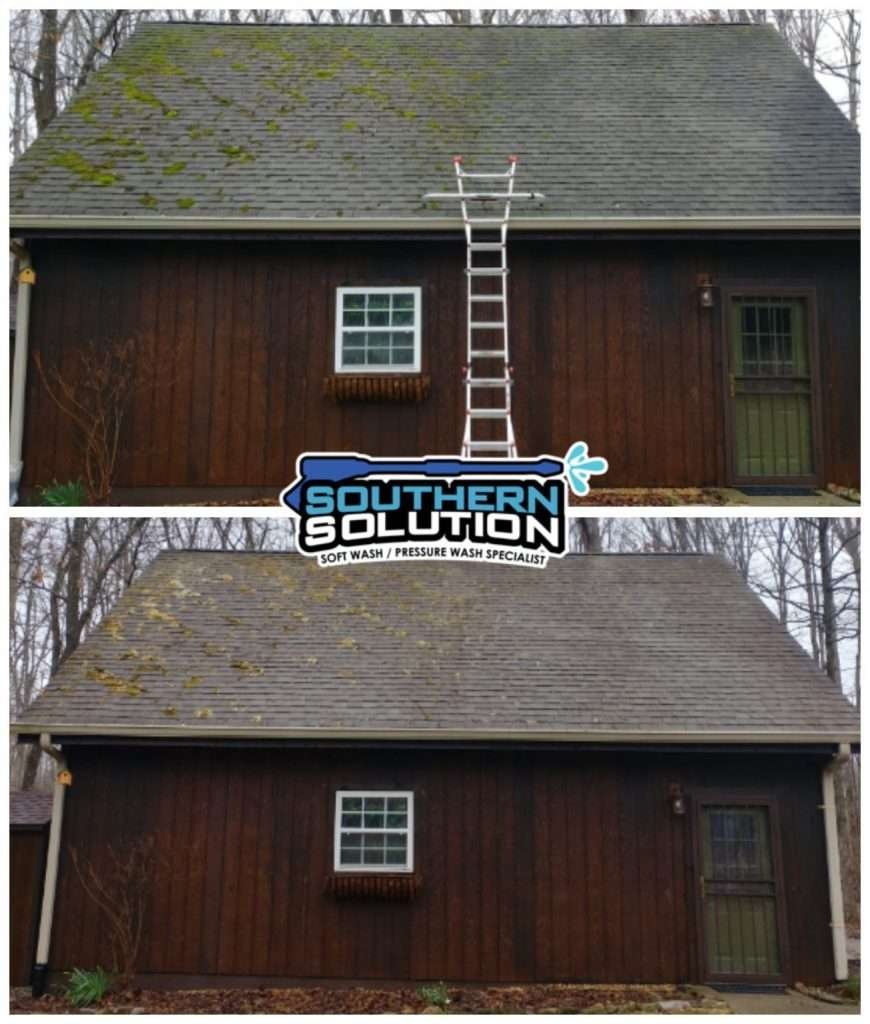 moss will cause roof shingles to deteriorate over time, leading to leaks and damage

our treatment immediate kills moss, but takes a few cycles to remove all roots
left untreated, moss can turn into lichen
You may have moss growing on your roof without knowing. We see it often hidden under dormers or lightly growing between the cracks in the shingles.
Roof washing is a great way to get rid of moss and clean your shingles. It usually puts an end to any potential problems with roots growing under them, too!
After roof washing the moss dies and becomes bright white in color, outlining the shingles it was growing under. Once the moss is killed, so are the roots.
Remember, it is much better to have the growth killed and eventually the clumps fall off the roof than to have someone up on your roof with a power washer or scrub brushes loosening the granules of the shingles.
Improper cleaning may be more abusive to the roof than the growth.
Metal Roof Cleaning and Oxidation Removal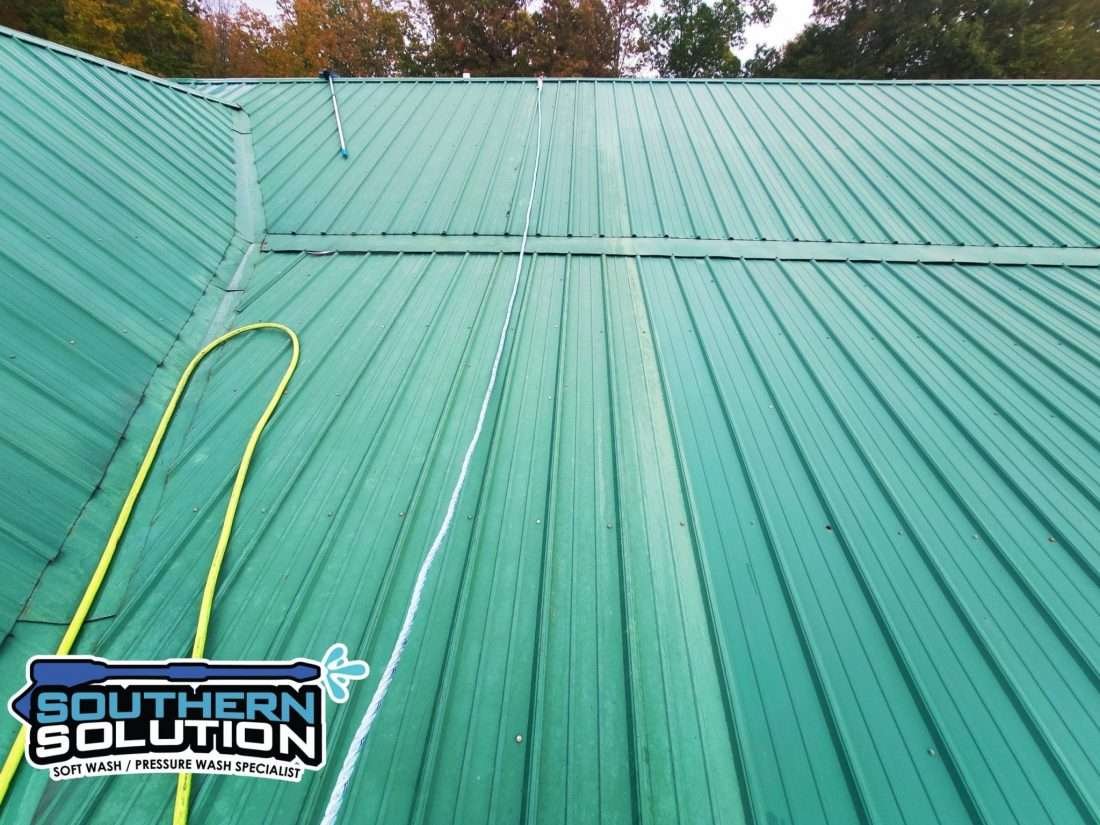 To avoid leaks, you should be very careful when using high pressure or harsh chemicals or metal roofs.
The chance of damaging rubber grommets and causing water damage is high due to their deteriorated condition from too much pressure scaling them away over time or blowing off in strong winds.
In order for your home's roof structure integrity to remain intact throughout all elements- including weather conditions such as rainstorms – it's vital that only appropriate pressure and the soft wash method are used to clean your metal roof.
Southern Solution soft washes all metal roofs,

high pressure is not used.

We use detergent neutralizers to cancel out what we apply to the roof-this helps preserve the screw grommets and prevent leaks.