Looking For Commercial Pressure Washing In Middle Tennessee?
A Call To Us Can Clean It All!
Our Commercial Pressure Washing Services include:
Building Washing-

Exterior Walls
Take A Look Below To See Our Services and Request a Quote If We Can Help With Your Project!
No Hassle, No Obligation Estimates.
Virtual Pricing available.
We are available 24/7 to service your locations

when convenient for you!

Southern Solution is licensed and insured
We carry a 2,000,000 liability insurance policy

We are trained & skilled in our low pressure washing methods and detergent use, allowing us to prevent property damage.

We use the latest in equipment and pressure specific methods to provide the highest level of cleaning as efficiently as possible.

Free Demos– We will show you the results to expect with our services!

One-time wash, or contractual washing plans available,We'll wash when you need it and as often as you need it.

Multi location and Frequency discounts to help you keep your properties Sparkling all year long!
Soft-Washing allows us to clean approximately 35′ from the ground which cleans most surfaces on Commercial Exterior Buildings.
When more pressure is needed or greater heights, Southern Solution is boom lift/scissor lift certified up to 120′
Commercial Building Washing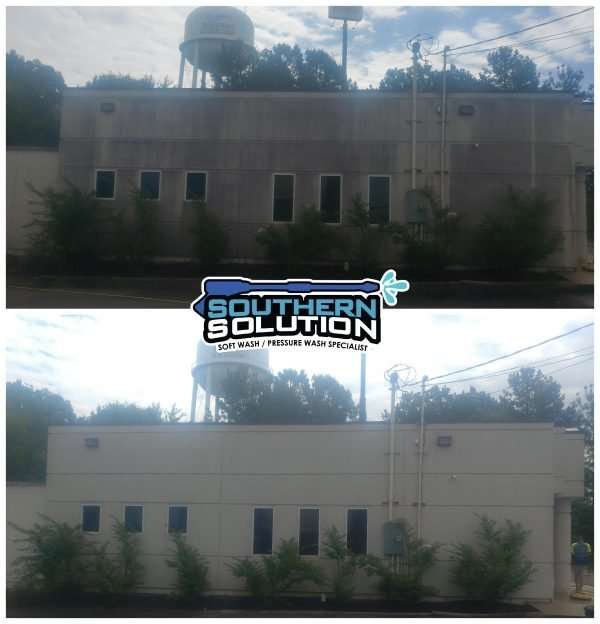 ---
Stucco and Dryvit Commercial Building Cleaning
Ensure positive impressions of your place of business with a

clean commercial exterior

.
We provide fast, effective, reliable service!
Using Pressure on most surfaces will damage the finish, and structural integrity of the exterior coating! We can avoid this!
Our cleaning methods provide

consistent, amazing results

. Like new every time!
think it needs paint? Try a cleaning first!
Southern Solution uses the soft wash method, and the proper cleaning solutions as recommended by the surface manufacturers for the surfaces we clean.
Parking Lot Cleaning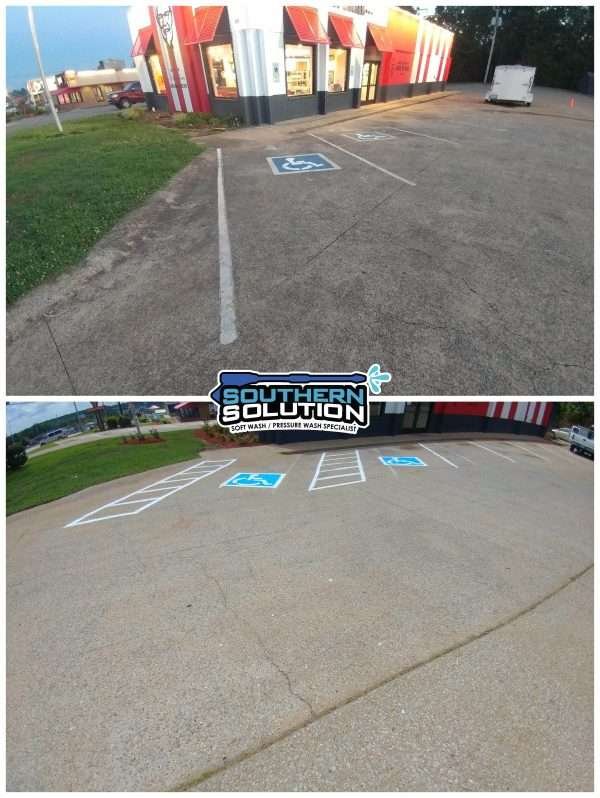 ---
Our Commercial Pressure Washing equipment covers large areas quickly and cost effectively, for you and us.

We use detergents specific to the areas we are cleaning, and ensure our runoff water is ph. neutral, and directed away from drains.

We follow the clean water act to keep our company, and your property environmentally friendly, and EPA fine free!

We have hot water machines, to help remove chewing gum, oil, paint, and stubborn grease stains.
Restaurant Pressure Washing
---
It should be important to maintain a clean commercial restaurant; customers expect as well as any health inspectors coming through, floors, walls, and vent hoods. This can best be accomplished by pressure washing in all of these areas simultaneously.

Customers eat with their eyes, and base their experience on the atmosphere around them. Having a

clean restaurant exterior is as important as a clean bathroom.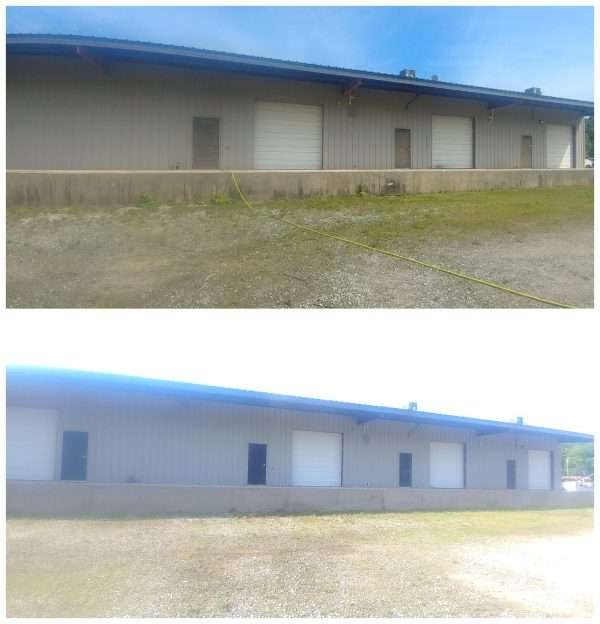 Warehouses are essential to the daily operations of many large businesses. Not only do they provide space for storage, but some warehouses also offer a place where products can be assembled or shipped from. One important aspect of operating a warehouse is making sure it stays in good condition and safe for your customers and employees.

Our pressure washing services will take care of that part for you!

We will work around your schedule cleaning before or after business hours, if necessary. Common Jobs include:
Clean dirt and dust from rafters

Pressure wash and power scrub floors

Remove all traces of oil and grease

Remove and stains from floors and walls

Pre-treat any spillages on floors

Remove food and drink stains

Remove paint spills an splatter
Storefront Pressure Cleaning
Your storefront, walkway, and parking lots are what your customers first see.
Those commercial concrete areas also receive the most traffic; which creates a buildup of dirt, grime gum, and other stains. A dirty retail front can diminish a property's appearance while cutting down on sales as well as increasing the risk of a slip and fall accident.
Commercial concrete cleaning services may be the answer to keep up with this dramatic problem that is sure to grow in time without attention paid
Commercial Concrete Cleaning
Cleaning your retail storefronts, walkways and parking lots may seem like a daunting task. The dirt that builds up on the surface can diminish a property's appearance and impact sales as well. A one-time commercial concrete cleaning service might be just what you need to get back into business!
Clean exterior areas such as storefronts, walkways, drive-thrus, or other common places of foot traffic are essential for maintaining an attractive image while also preventing buildup from gum & food stains; leading to potential health hazards.
We even have hot water units that melt away all that bubble gum!
After hours and night time cleanings available to minimize customer disturbance.
Our Specialized
Services Include:
We Clean and Restore...
Buildings I Home Exteriors | Vinyl Siding | Brick | Dryvit | Stucco | Stone | Roofs | Decks | Concrete Cleaning | Aluminum Siding | Soffit | Fascia | Gutter & Downspout| Restaurants | Drive Thru's | Dumpster Pads | Parking areas | Driveways | Parking Lots | Warehouses | Loading Docks | New Construction | Industrial Equipment | Factories | Condominiums | Townhouses | Apartments | Common Areas | Pool Houses | Clubhouses