Make a Lasting Impression with Our Commercial Pressure Washing Solutions
Our Commercial Pressure Washing Services include:
Building Washing-

Exterior Walls
At Southern Solution, our team of professional commercial pressure washing experts are here to provide for all your commercial property cleaning needs. From power washing and soft washing to window cleaning, concrete cleaning, roof cleaning, and rust removal, we have the knowledge, skill, and experience to keep your business or commercial property looking its absolute best.
We serve the Middle Tennessee area and are dedicated to providing exceptional customer service and top-quality results. Contact us today to schedule your appointment and let us help your commercial property shine.
Take A Look Below To See Our Services and Request a Quote If We Can Help With Your Project!
No Hassle, No Obligation Estimates.
Virtual Pricing available.
We are available 24/7 to service your locations

when convenient for you!

Southern Solution is licensed and insured
We carry a 2,000,000 liability insurance policy

We are trained & skilled in our low pressure washing methods and detergent use, allowing us to prevent property damage.

We use the latest in equipment and pressure specific methods to provide the highest level of cleaning as efficiently as possible.

Free Demos– We will show you the results to expect with our services!

One-time wash, or contractual washing plans available,We'll wash when you need it and as often as you need it.

Multi location and Frequency discounts to help you keep your properties Sparkling all year long!
Soft-Washing allows us to clean approximately 35′ from the ground which cleans most surfaces on Commercial Exterior Buildings.
When more pressure is needed or greater heights, Southern Solution is boom lift/scissor lift certified up to 120′
Commercial Building Washing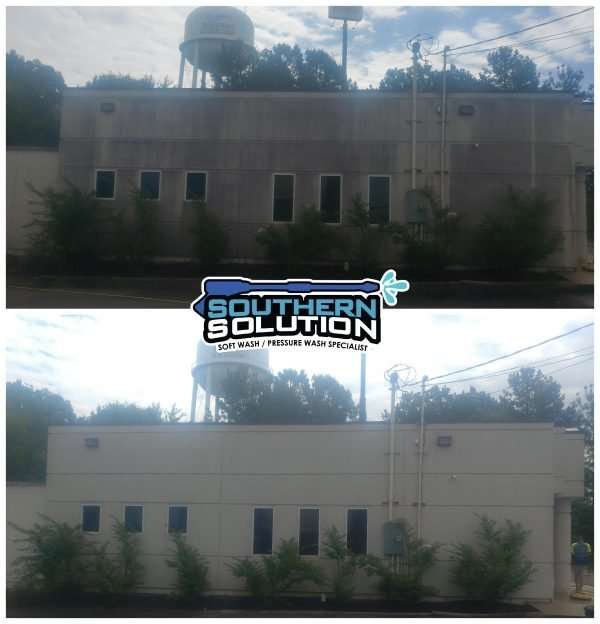 ---
Stucco and Dryvit Commercial Building Cleaning
The soft wash method is gentle and effective for cleaning dryvit and stucco surfaces

Our cleaning solutions are recommended by surface manufacturers for the best results

Our methods provide consistent, amazing results that make your building look like new

Before considering repainting, try a professional cleaning from Southern Solution first

Using pressure can damage the finish and structural integrity of dryvit and stucco exteriors
Parking Lot Cleaning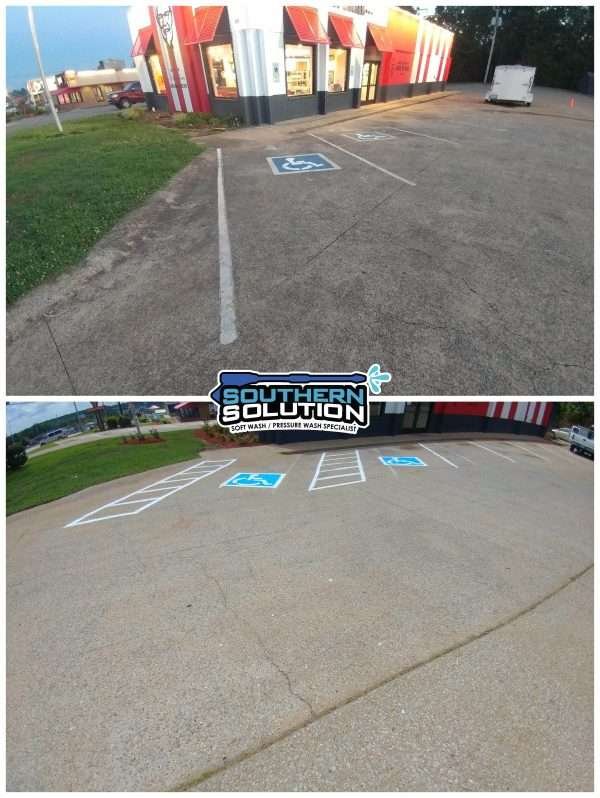 ---
Cover large areas quickly and cost-effectively

Follow Clean Water Act to be environmentally friendly and avoid EPA fines for all of us.

Use of hot water machines to remove chewing gum, oil, paint, and stubborn grease stains

Parking lot cleaning services available

Runoff water is pH neutral and directed away from drains

Use of detergents specific to the areas being cleaned
Restaurant Pressure Washing
The exterior of your restaurant is the first thing that customers see and can make a lasting impression on them.

Regular pressure washing can remove dirt, grime, and other build-up from the exterior of your restaurant, making it look clean and inviting.

Pressure washing can also help improve the safety of your restaurant by removing slippery substances and other hazards from the exterior.

Our team at Southern Solution has the knowledge and experience to provide effective pressure washing services for your restaurant.

We use the right tools and techniques to thoroughly clean your restaurant's exterior without damaging it.

Contact us today to schedule pressure washing for your restaurant and make a great impression on your customers.

A clean restaurant exterior can help improve customer satisfaction and can even increase business.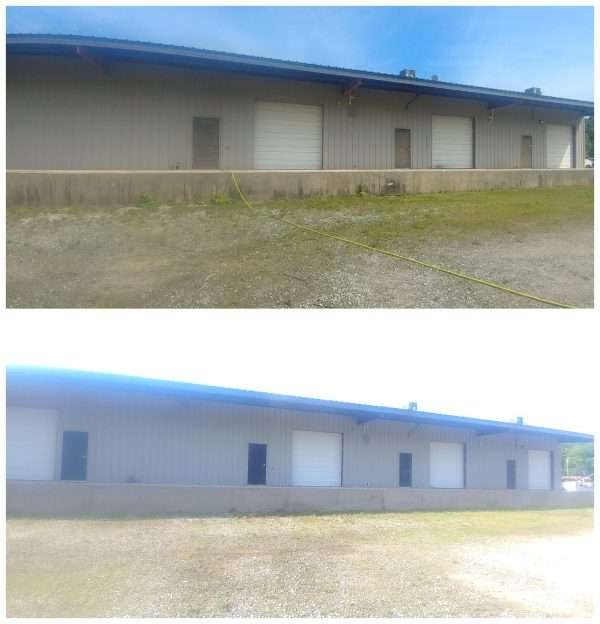 Warehouses require regular cleaning to maintain good condition and safety

Our pressure washing services can clean dirt and dust from rafters, floors, and walls

We can remove oil, grease, and stains from floors and walls

We can pre-treat any spillages on floors and remove food and drink stains

We can work around your schedule and clean before or after business hours if necessary.
Storefront Pressure Cleaning
We use high-pressure surface cleaners to remove tough stains and grime from your storefront, walkways, and parking lots

Our team is skilled in safely cleaning commercial concrete surfaces without damaging them

We use eco-friendly cleaning solutions to ensure that your property is not only clean, but also safe for the environment

Our services are available on a regular basis to maintain the cleanliness of your commercial property

Our team is experienced in working around your schedule to minimize disruption to your business

Contact us today for a free quote and let us help keep your commercial property looking its best!
Commercial Concrete Cleaning
Regular cleaning of retail storefronts, walkways, and parking lots can improve a property's appearance and increase sales.

Professional commercial concrete cleaning services can remove dirt, grime, gum, and other stains that build up over time.

Our experienced team uses the latest equipment and techniques to provide consistent and effective results.

We offer after-hours cleaning to minimize disturbance to your customers and business operations.

Our hot water units can easily remove stubborn gum and other stains, leaving your commercial concrete surfaces looking like new.

Protect your property and customers with regular commercial concrete cleaning from Southern Solution. Contact us today for a free estimate.
Our Specialized
Services Include:
We Clean and Restore...
Buildings I Home Exteriors | Vinyl Siding | Brick | Dryvit | Stucco | Stone | Roofs | Decks | Concrete Cleaning | Aluminum Siding | Soffit | Fascia | Gutter & Downspout| Restaurants | Drive Thru's | Dumpster Pads | Parking areas | Driveways | Parking Lots | Warehouses | Loading Docks | New Construction | Industrial Equipment | Factories | Condominiums | Townhouses | Apartments | Common Areas | Pool Houses | Clubhouses